Admissions
Crabtree Junior School is an academy school within Ivy Learning Trust. The Trust is the Admitting Authority for Crabtree Junior School and is responsible for setting the rules by which children will be admitted to the school. As Admitting Authority Ivy Learning Trust currently maintains the same admissions arrangements as those applied by Hertfordshire County Council (HCC) for community schools. Specifically the oversubscription criteria applied are the same as those applied by HCC.
More details of the admissions arrangements for entry in the 2023/24 admissions year are detailed in the link below.
Admission Appeals and Reviews are administered by Hertfordshire County Council. The timetable for 2024 appeals is published below.
Herts Direct website - admissions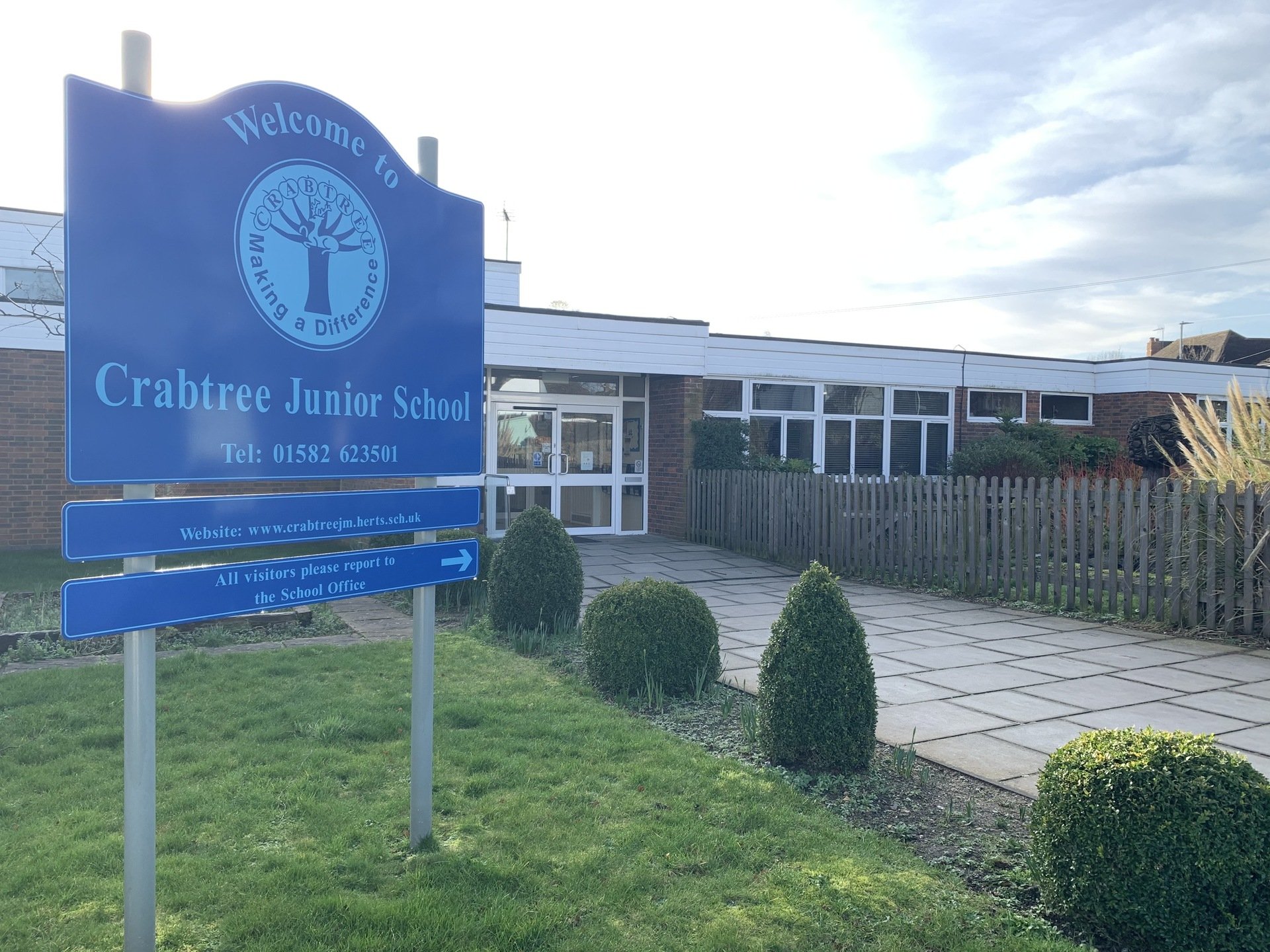 Summary
Crabtree Junior School is a community primary school for children aged 7-11. Each year group has two classes, with a maximum of 32 pupils in each class. The majority of places are taken up by pupils from our linked Infants' school, but each year we welcome a number of pupils who come from other local schools or who are new to the area.
For the avoidance of doubt, all parents/carers seeking a place for their child at Crabtree Junior School must complete the Common Application Form even if the child already attends Crabtree Infants' School. There is no automatic transition, although the linked school status is relevant when applying the oversubscription criteria.
All admissions, excluding 'In Year' admissions, are dealt with centrally by the County Admissions Team. Application forms are available from the school or by contacting 0300 123 4043.
The admissions process for Year 3 places for September 2022 is detailed in the Trust's determined admissions rules. The document can be found here.
Key dates for 2021/22
| | |
| --- | --- |
| Applications Open | 1 November 2023 |
| Closing date for online applications to be submitted to the LA | 15 January 2024 |
| Statutory deadline for receipt of paper applications | 15 January 2024 |
| Offers made | 16 April 2024 |
| Date by which parents/carers may accept or reject place offered | 1 May 2024 |
| Date by which parents/carers return appeal forms | 16 May 2024 |
Appeals Deadline
For reception admissions and appeals please apply online here.
Submit your appeal by 4pm on 16th May 2024.
Visits
Choosing the right school is an important decision. We encourage parents to visit the school prior to completing the Junior Admissions application form. Children moving into the Harpenden area are encouraged to visit with their parents. Visits are taking place on the mornings of Tuesday 28th November, Wednesday 29th November and Thursday 30th November To arrange a visit, please telephone the School Office.
We hold an Open Evening in the summer term, during which an information session is held for new pupils and their parents to meet the teachers and find out more about moving up to the Junior School. In the summer before they join, all pupils are invited to spend part of a day with their new class teacher.
In Year Admissions - Download the In Year Application Form here
All In Year Admissions are dealt with directly by the school. If you are moving to the area or wish to move your child from another school you will need to contact the school office for an application form.
Once the completed application form has been sent back to the school we will either offer you a place, if there is one available, or add you to our waiting list.
All applications are dealt with in accordance to the admissions arrangements.
If a place has been offered to you we will organise a visit for you and your child to see the school. We cannot offer visits unless a place has become available.
Admissions Arrangements 2024 - 2025
Admissions Arrangements 2023 - 2024