Physical Education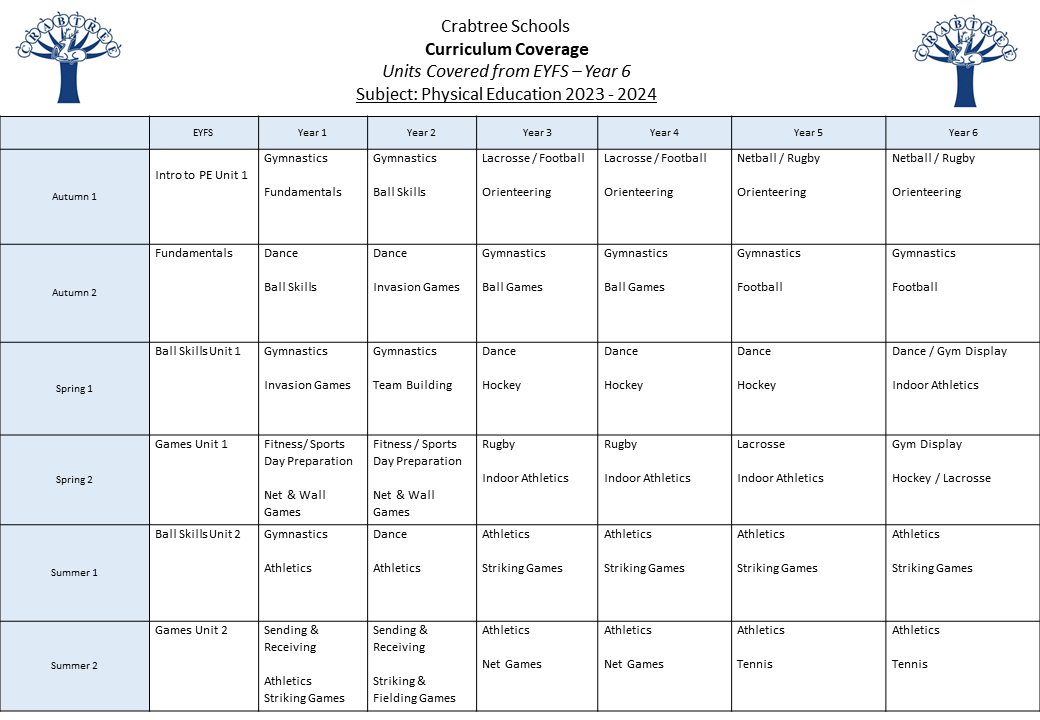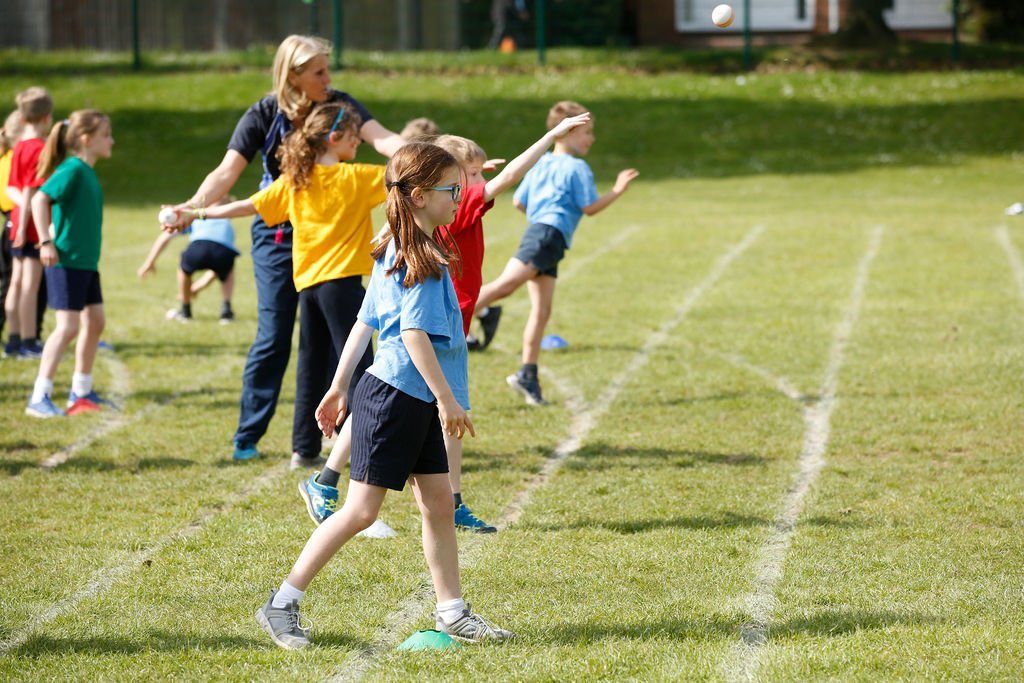 Context
Physical fitness is an important part of leading a healthier lifestyle. It teaches self-discipline and that to be successful you must work hard, show resilience and have the determination to believe that anything can be achieved.
Crabtree Junior feeds into a number of highly competitive secondary schools. Within these schools, the opportunity to participate in extra-curricular sport relies heavily on the child's desire to take part, their determination to participate and their ability to succeed.
The children need to be self-motivated, show self-confidence and have the ability to perform. In order to give our children the best possible chance to succeed, we aim to educate them in a broad variety of sports and activities.
The majority of our children are involved in external clubs and teams, representing their local area.
We have a very active school community. Sport is valued as part of family life, with many generations belonging to local sports clubs.
School leavers go on to compete at a high level, both at secondary school and beyond.
Intent
• PE at Crabtree aims to develop the knowledge, skills and capabilities necessary for mental, emotional, social and physical wellbeing in our children now and for their future.
• For every child to enjoy and participate in physical activity and sport.
• To understand how physical activity can make a positive impact on physical health and well- being.
• To ensure the children understand the difference between PE, sport and physical activity.
• To be active throughout the whole school day both inside the classroom and out, irrelevant of weather or timetable constraints.
• To experience a wide variety of sports and physical skills which will enhance life- long fitness and life choices.
• To have high expectations for all and offer challenge in order that every child can achieve their personal best.
• Through physical activity, promote positive self-image and self-esteem.
• To teach children how to collaborate with others, as part of a team.
• To ensure children understand fairness and equality.
• To provide opportunities for staff training and development.
• To be inclusive and offer differentiated support to cater for the needs of every child.
• To offer a variety of competitive and non-competitive sports.
• To offer children positions of responsibility, such as Sports captains and Sports Leaders.
• To ensure that every child is water safe and can swim 25m.
• To celebrate success with parents and the wider community.
Implementation
• We provide the children with 2 hours of high quality curriculum P.E and sporting activities each week. This is taught by a Specialist teacher and supported by a Sports Teaching Assistant.
• Our Sports curriculum incorporates a wide selection of sports in line with the National curriculum for Key stage 2 and offer opportunities and experiences regardless of ability.
• We teach a sports based curriculum to enable children to learn and consolidate skills that are transferable from sport to sport.
• Pupils will acquire and develop skills to become successful games players, dancers, gymnasts and athletes, learning how to observe, compare and comment on skills, techniques and ideas which they then use to improve their work and performances.
• We provide extra- curricular activities before, during and after school.
• We enter District and School Games competitions, were possible, as many children as possible will have the chance to represent their school.
• We have developed a strong House system and at the end of each series of lessons there will be an Inter House competition.
• Sports Leaders and Sports Captain roles help the children take on responsibility within a team or with a group of younger children to help structure play at lunchtimes or help run a club.
• Parents are given the opportunity where possible to spectate their child being involved within sporting competitions, festivals, assemblies, sports day or gymnastic and dance displays.
• Sports Premium funding is used to make additional and sustainable improvements to the quality of P.E, school sport and physical activity – by developing or adding to – building capacity and capability within the school to benefit
• Membership in the Roundwood Park School Sports Partnership enables a broader range of competitive sports that increases the percentage of children representing the school.
• Children are assessed against criteria to determine if they are working at age related expectations. This is recorded on Insight and used to inform planning and determine if any child requires further support or greater challenge.
• Daily physical activities and health enhancing activities are incorporated into our day such as active lessons, the Daily Mile and Super-movers.
• Staff have a clear understanding of the National curriculum through CPD and attendance at Specialist group meetings.
Impact
• Our curriculum has improved the wellbeing and fitness of all our children, not only through the sporting skills taught but also through the underpinning values and disciplines that P.E promotes.
• Our children have the confidence to attend clubs and teams in the local community where they can develop their skills further.
• Our success with achieving Gold Sports Mark for the last 3 years highlights the numbers of children who participate in sport and have had the opportunity to play in intra and inter school sports.
• The children enjoy physical education and have the desire and skills to continue in secondary school and beyond.
• We achieved the St Albans and Harpenden Primary Sports School of the Year Award 2019 and was runner up in the County round.
• Our P.E teacher received an award for Services to Sport 2019.
• 243 children have attended at least one club 95%
• 159 children have represented the school in at least one Level 2 competition 62%
• 125 children took part in the Gym and Dance Display 98%
• 60 Year 6 children were Sports Leaders 92%
• We have played 85 school fixtures throughout the year.
• Every child participates in the Daily Mile
• Active learning takes place through-out the school
• Skills learnt through P.E, such as collaboration, have given children the confidence to take on whole school responsibilities.
• Through working together children have developed a sense of inclusivity and they understand that being fair does not always mean being equal.
• Children's organisational skills are impressive and develop quickly due to the high expectations instilled in PE.
Scaffolding and adaptive teaching in PE